Since COVID-19, we have seen an increase in scams and fraud. What is the most common scam, you ask? Phone and text scams are the most popular tactics scammers are using right now. According to the Federal Trade Commission, phone scams accounted for $330 million lost in 2022. At ORNL Federal Credit Union, we want your accounts and information to stay safe. Below are some examples of the most common phone and text scams.
Financial Institution Impersonation
Scammers have really stepped it up in 2023. They are now impersonating banking institutions. They may call or text and claim that there has been an issue with your bank account. So, how can you detect if this is a scam? A real financial institution is never going to ask you for personal information over the phone or text—such as your Social Security Number or account number. Specifically at ORNL FCU, we will never text or email you a link, asking you to click to confirm your information. Below are images of real fraud texts that have been sent out by scammers in the past impersonating ORNL FCU.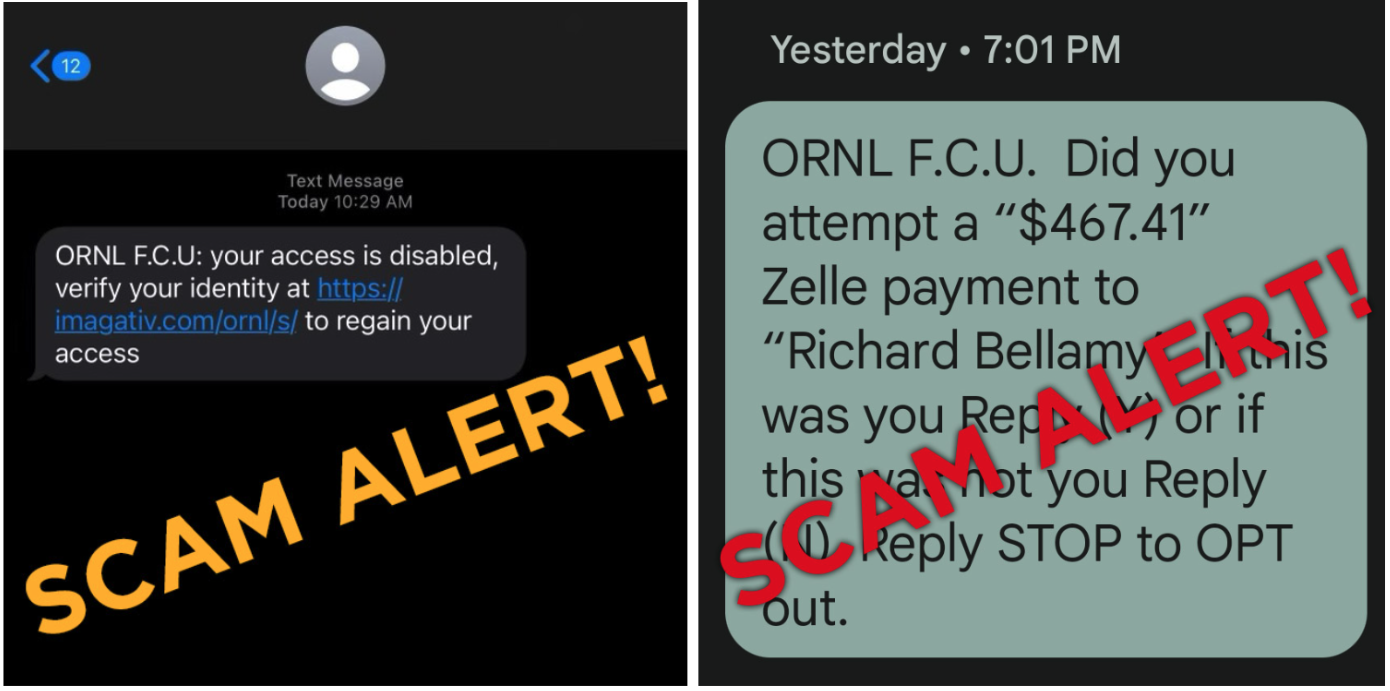 Offering a Free Gift
Oftentimes with phone and text scams, scammers will offer some type of a free gift. An example of this is someone pretending to be a cell phone company or retailer. In the call, they claim that you have won the newest Apple product and all they need from you is your banking information to send over the funds. The fraud team at ORNL FCU says that if it is too good to be true, then it's more than likely a scam.
Shopping Account Updates
Since the pandemic, more Americans than ever are shopping online. A common phone and text scam we are seeing now is shopping account updates. This is where the scammer pretends to be an online retailer such as Amazon. They claim that there has been an issue with your account and want you to click the link below to update your account password and information.
Postal Service Notification
Like we mentioned above, the scammers are getting really good at their jobs. They are even impersonating postal service companies such as UPS, FedEx, and USPS. With this scam, they will send a text message or call claiming that there was a shipping issue with your order. Like the other scams, they will often have a link in the text message asking you to verify your personal information. Seeing the common pattern here?
AI Phone calls
This is perhaps the most scary phone scam. Scammers are using AI technology to pretend to be someone that you are close with or know. An example of this is the scammer calling you and impersonating your child. Claiming that they have had an emergency and need money sent to them asap. Scammers love to create a sense of urgency to hopefully get you to react impulsively. If this happens to you, please hang up the phone and call the person that the scammers are claiming to be. Check and ask if they really are in any danger.
If you receive any suspicious phone calls or text messages, please do not hesitate to reach out to ORNL FCU or your banking institution with questions. You can even report the fraud to the Federal Trade Commission by visiting their website.